Lemony Saskatoon Muffins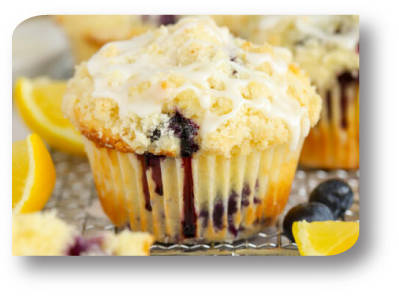 1 ½ cups all purpose flour
1 cup sugar
2 ½ tsp baking powder
¼ tsp salt 
1 cup Saskatoon berries
1 egg
¼ cup vegetable oil
¾ cup milk
Topping:
1 tbsp lemon rind
2 tbsp sugar
Preheat over to 425°. 
Sift together into bowl – flour, sugar, baking powder & salt. Stir in saskatoons.  In separate bowl, mix egg, oil and milk then add to dry ingredients. Mix only until well moistened. Spoon batter into greased or paper lined muffin tins to ¾ full. Top each muffin with some of the topping mixture.  
Bake at 425° for 15 minutes or until lightly browned.
Makes 1 dozen medium muffins.  
Saskatoon Pudding Cake
Prep Time: 10 minutes 
Cook Time: 40-45 minutes
Yield: Makes 9-16 squares
Main Ingredients:
2 cups Saskatoon berries
1 tsp cinnamon
1 tsp lemon juice
1 cup flour
3/4 cup sugar
1 tsp baking powder
1/2 cup milk
3 tbsp melted butter
Topping:
3/4 cup sugar
1 tbsp corn starch
1 cup boiling water
Preheat over to 350°. 
Toss berries with cinnamon and lemon juice. Pour into greased 8" square cake pan or 12" (across) round, flat dish. Put flour, sugar and baking powder into bowl. Stir in milk and melted butter. Spoon batter evenly over top of berries. Combine topping of sugar and cornstarch, then sprinkle over batter. Slowly pour boiling water over it all so it is wet. This forms a syrupy bottom with the berries. Top is like a biscuit – boiling water makes top look glazed. Bake at 350° for 40-45 minutes.
Saskatoon Coffee Cake
1/2 cup melted butter
2 cups unbleached all-purpose flour
1 1/4 cups organic cane sugar
4 tsps cinnamon
1 cup chopped walnuts
2 tsps baking powder
1 egg
3/4 cup milk
1 1/2 cups Saskatoon berries
                     (or other fruit, finely chopped)
Preheat oven to 375 degrees F. Grease a 9-inch round cake pan. In a small bowl, combine 3 tbsp. of the melted butter with 3 tbsp. of flour, 3/4 cup of organic cane sugar and 2 tsp. of cinnamon with the walnuts. With very clean hands, mix until these ingredients start to clump together; then set aside. In another bowl, combine remaining flour and sugar with the baking powder, salt, and 2 tsp. cinnamon. Once dry ingredients are well blended then add remaining melted butter. Mix with a fork until everything is mixed as best as possible. Add to this, the egg and milk and continue mixing until everything is moistened. Batter will be thick. Pour half the batter into the prepared pan and spread even; sprinkle with 3/4 cups of the berries, then sprinkle half of the streusel mixture on top. Then place the remaining batter on top and carefully spread it to the edges. Follow with the remaining berries, then the streusel. Bake until a toothpick inserted in the centre comes out clean, about 25-35 minutes. Cool on a wire rack for minimum 30 minutes before cutting.
Saskatoon Rhubarb Crisp
3 cups Saskatoon berries
1 1/2 cups rhubarb
1/4 cup honey
1/2 cup brown sugar
1/2 cup flour
1/2 cup rolled oats
1/4 cup canola oil
Place saskatoons and cut rhubarb in a 8x8 inch baking dish or casserole and drizzle with honey.  Combine brown sugar, flour, rolled oats and oil mixture until mixture is crumbly.  Spread over fruit.  Bake in a 375 F oven for 45 minutes or until golden brown.  Serve warm with ice cream.  Makes 9 servings.
Saskatoon Smoothie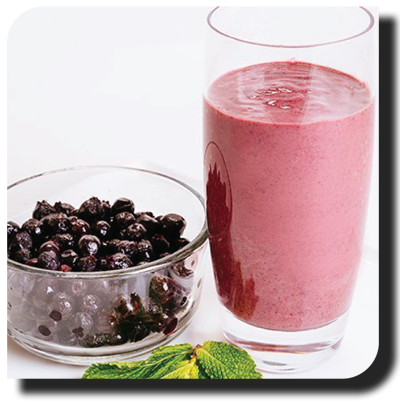 1 cup Saskatoon berries 
1 cup skim milk 
1/2 cup plain yogurt 
1 banana cut into chunks 
1/2 cup crushed pineapple 
1 Tbsp crushed flax seed 

Combine all ingredients in a blender.  
Process for 2 minutes or until smooth.
Serves 2.
TIP: To bring out the saskatoon flavour add a little almond flavouring or a dash of lemon juice to any saskatoon berry recipe.