Saskatoon Rhubarb Crisp
3 cups Saskatoon berries
1 1/2 cups rhubarb
1/4 cup honey
1/2 cup brown sugar
1/2 cup flour
1/2 cup rolled oats
1/4 cup canola oil
Place saskatoons and cut rhubarb in a 8x8 inch baking dish or casserole and drizzle with honey.  Combine brown sugar, flour, rolled oats and oil mixture until mixture is crumbly.  Spread over fruit.  Bake in a 375 F oven for 45 minutes or until golden brown.  Serve warm with ice cream.  Makes 9 servings.
Saskatoon Smoothie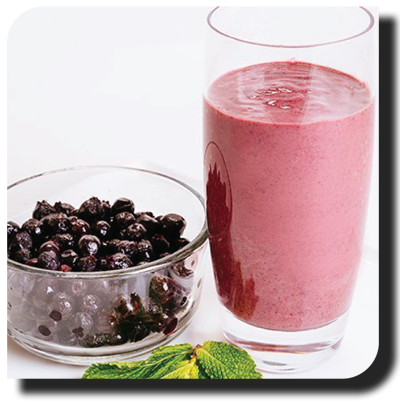 1 cup Saskatoon berries 
1 cup skim milk 
1/2 cup plain yogurt 
1 banana cut into chunks 
1/2 cup crushed pineapple 
1 Tbsp crushed flax seed 

Combine all ingredients in a blender.  
Process for 2 minutes or until smooth.
Serves 2.
TIP: To bring out the saskatoon flavour add a little almond flavouring or a dash of lemon juice to any saskatoon berry recipe.